Weekend ini kami mengunjungi salah satu icon terkenal Jawa Timur yaitu Gunung Bromo.
Kami brangkat dari Surabaya jam 23.00 dan sampai disana jan 02.00 WIB.Jadi kami tidak menyewa hotel or penginapan.Lebih hemat,tapi perlu fisik yang siap.
Area Taman Nasional Bromo ini mencakup 50.273.30 hectare dataran tinggi yang dipenuhi dengan pegunungan dan hutan yang subur. Kawasan taman nasional ini terbagi dalam 4 kabupaten yaitu : Malang,Pasuruan,Probolinggo,Lumajang. Jadi akses masuk bisa di temukan dari 4 kabupaten tersebut.
Letaknya di antara 1000-3676 M diatas permukaan laut (asl = above sea level). Temperature berkisar antara 3 - 20 derajat Celcius.
Mt. Penanjakan
Tempat yang paling banyak dikunjungi salah satunya adalah Mt. Penanjakan (2770 M asl).Dari sini kita akan mendapat pemandangan yang sangat menakjubkan berupa Sea of Sand (Lautan Pasir) dan gunung Bromo,Batok serta Semeru.Biasanya sunrise bisa dinikmati antara pukul 4.30 a.m. - 5.30 a.m.
Sunrise

Penanjakan's View

Penanjakan ini masuk ke wilayah Pasuruan jadi kalo memang mau ke Penanjakan dulu baru ke kawah Gunung Bromo kami anjurkan untuk mengambil rute Pasuruan dibanding rute Probolinggo.Jalannya lebih mulus beraspal.Jadi kalo berani kita juga bisa bawa kendaraan kita naik ke puncak Penanjakan.Alternatif lain,sampai di pintu masuk akan banyak tersedia 4-wheel Jeep Hardtop yang siap mengantar Anda tanpa terbatas waktu.Harga sewanya disama ratakan oleh koperasi yaitu Rp 125.000,- (termasuk ke Penanjakan, Bromo, lalu kembali ke tempat parkir kendaraan kita)
Kalo kita lewat wilayah Probolinggo ongkos sewa yaitu Rp 200.000,-. Sesampai di desa wonotoro,kita parkir mobil kita ganti dengan 4-wheel Jeep.Kalo dari Probolinggo ini sangat tidak disarankan membawa kendaraan sendiri yang bukan 4 wheel,apalagi pada musim kemarau,karena bahaya terperosok di lautan pasir.
Ongkos lain:
- Retribusi Jalan Wisata u/ Jepp : Rp 2.000,-
- Retribusi Jalan Desa : Rp 2.000,-
- Asuransi Kecelakaan : Rp 2.000,- / orang
- Karcis masuk pengunjung : Rp 2.000,- / orang
Mt. Bromo
Selepas menanti sunrise di Penanjakan,kita lanjutkan perjalanan turun ke kaki gunung Bromo.Disana ada juga Pura tempat orang Tengger yang beragama Hindu melakukan upacara keagamaan Kasodo dibulan Oktober.Kita akan diturunkan di dekat pura dan kemudian kita harus berjalan kaki atau menyewa kuda Rp 20.000,- sampai di kaki gunung ini.Setelah sampai dikaki gunung,kita harus melewati sekitar 250 - 300 anak tangga dan sampailah kita di puncaknya. Disini bisa kita lihat pemandangan lautan pasir,pura,Gunung Batok dan kawah dengan bau belerang dari gunung Bromo ini.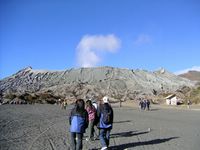 Bromo

Way to the top of Bromo

Bromo Stairs

Sea of Sand from Bromo

Tips : Pakailah Jaket yang tahan dingin,sarung tangan, sarung kaki dan penutup kepala
Jika tidak punya,disana banyak sekali penjual dengan harga terjangkau.
Sepulang dari Bromo,jika Anda menuju arah Probolinggo or Surabaya,sempatkanlah untuk mengunjungi
Madakaripura Waterfall
yang hanya berjarak sekitar 6 km dari Bromo.Segarkanlah diri Anda di sana setelah merasakan serangan panas dan debu di Bromo.
Informasi lain :
Jl. R. INTAN NO. 6
P.O. BOX 54, PHONE. (0341)41828
MALANG - EAST JAVA
INDONESIA
Another Photos : http://www.dolphinrider.fotopic.net